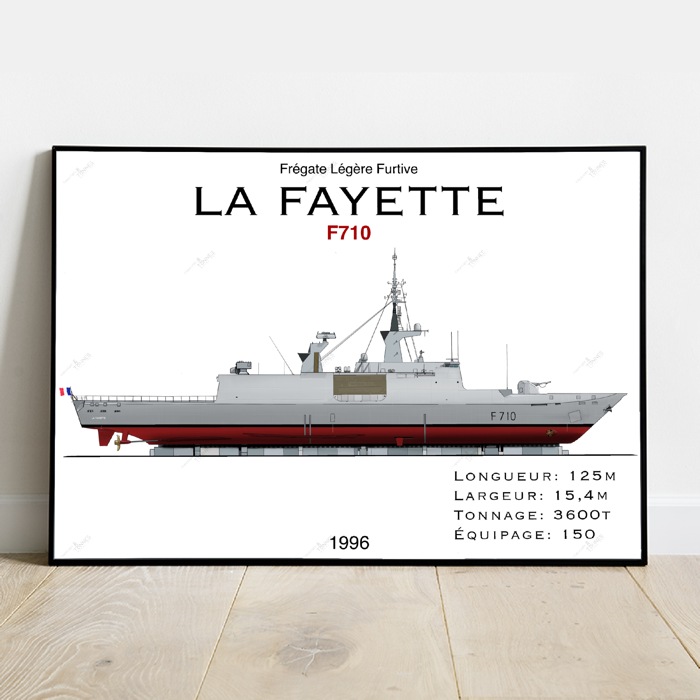 

FLF La Fayette class profile
A digital drawing of the FLF La Fayette class view in profilte. Choose your ship in the list below: La Fayette, Surcouf, Courbet, Aconit, Guépratte
In-Stock
The first of a class of five ships destined for the French Navy, the frigate La Fayette was laid down in 1990 and commissioned in 1996.
This new class had to meet two needs: to ensure sovereignty in national waters and to participate in the settlement of overseas crises. This is why it had to be autonomous but also integrable in a naval air device. Among the missions it must fulfill, let us also mention special operations or humanitarian missions.

It is a highly technological ship. Indeed, from its conception, stealth (radar, infrared and acoustic signature) and modularity (in order to minimize downtime for modernization) were essential objectives. All the latest technologies available at that time were used to increase its automation, and reduce manufacturing and maintenance costs.

A 10-ton class helicopter (Panther or NH90) capable of carrying out light transport, anti-submarine warfare or surface ship missions is on board.

There are a total of 6 ships: La Fayette, Surcouf, Courbet, Aconit and Guepratte. These frigates are equipped with a 100mm cannon, two 20mm F2 cannons, a Crotale CN2 ramp, eight ExocetMM40 block 2 missiles and two M134 miniguns

The frigate is represented here in profile on its line of tins
No customer reviews for the moment.
Customers who bought this product also bought: