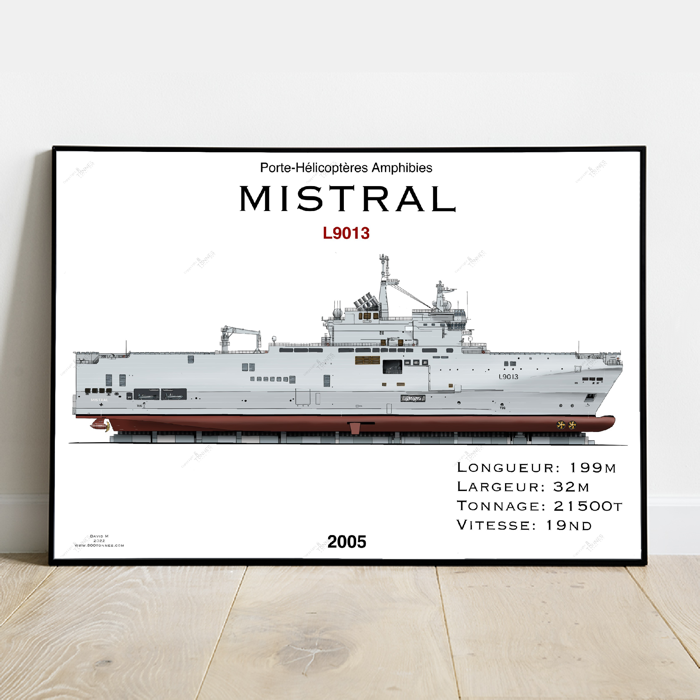 

PHA Mistral class profile
A digital drawing of the PHA Mistral class view in profilte. Choose your ship in the list below: Mistral, Tonnerre or Dixmude
In-Stock
Commissioned in 2006, the Amphibious Helicopter Carrier "Mistral" is the first of three buildings of its class, along with the Tonnerre and the Dixmude

Formerly called "BPC" for Commanded Projection Building, the PHA can, from their flight deck, deploy a complete airmobile force made up of combat helicopters, intended to conduct strikes or territorial surveillance operations. Their amphibious capacity allows them, thanks to rapid landing craft and barges for transporting equipment, to project troops and vehicles from the sea to land, but also to carry out rescue operations for populations (evacuation of nationals, assistance after a sinister).

Their modularity makes it possible to embark a staff and to implement a command post of joint forces for the conduct of a national or multinational operation from the sea. a large-scale health crisis (operating theatres, burns treatment room, etc.).

200 meters long, for a tonnage of more than 21,000 tons, they are the largest buildings in the French Navy after the nuclear aircraft carrier Charles de Gaulle.

They are represented here in profile on their line of tins.
No customer reviews for the moment.
Customers who bought this product also bought: